Skis & Snowboards   |   Bikes   |   Inflatable SUPs
How Do Daily Ski & Snowboard Rentals Work?
Come in anytime after 2:00 P.M. on the day before you head to the mountain
Fill out the paper work
Take the equipment
Have fun!
Equipment is due back the day after your rental period by 1:00 p.m.
Staying on the slopes for consecutive days? Save money while using great gear! Multi-day pricing is below.
Our gear is tuned every single time it's returned. We want everyone to have a great experience!

How Do Season Ski & Snowboard Rentals Work?
Rent at the beginning of the season and keep the equipment at home. They're not due back until May 1st 2023!
You get skis or a snowboard with bindings, boots and poles.
You have the option of purchasing equipment insurance for an additional $30. This is "no questions asked"—if the equipment is busted in any way, your insurance covers it. Insurance does not cover loss or theft.
You can bring the equipment in anytime for tuning; it's included in the awesome price!
The best part for parents: if your kids have a growth spurt in the middle of the season, just come back and we'll replace their equipment with a new size!
Season rentals preseason ends November 30th, 2022. In season pricing after 12/1/2022, goes up $50

Bike Rentals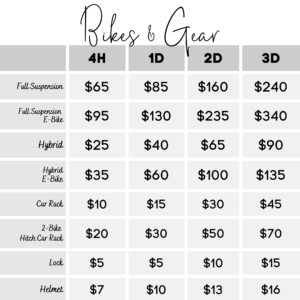 Click here to book your bike rental reservation!
Inflatable Stand Up Paddleboards


Click here to book your paddleboard reservation.