HOW DO DAILY RENTALS WORK?
Come in the day before you go . This would be anytime after 2 p.m.
Fill out the paper work
Take the equipment . HAVE FUN!!
They are due back the day after your rental period by 1p.m.
Need them for consecutive day?. SAVE MONEY WHILE RIDING GREAT EQUIPMENT.
Are gear is tuned every time they come in. We want everyone to have a great experience.
 CHECK PRICES BELOW FOR YOUR NEXT ADVENTURE!!
Make the most of winter and get outside to enjoy it!  It is Wyoming's main season, after all.
We are southeast Wyoming's #1 stop for winter sports equipment rentals, from skis to boards to snowshoes.  Our rental equipment is always tuned & maintained, and it's all the same high-quality gear you'll find for sale in the shop.
We offer daily and multi-day rentals, as well as rentals for the entire season.  We let you pick up your equipment after 2 p.m. the day before you go and return it by Noon the day after you're back. That's what we consider a one-day rental. We don't want you to be rushing back from the fun, enjoy what you are doing!
Find prices and packages below and give us a call to make your reservation!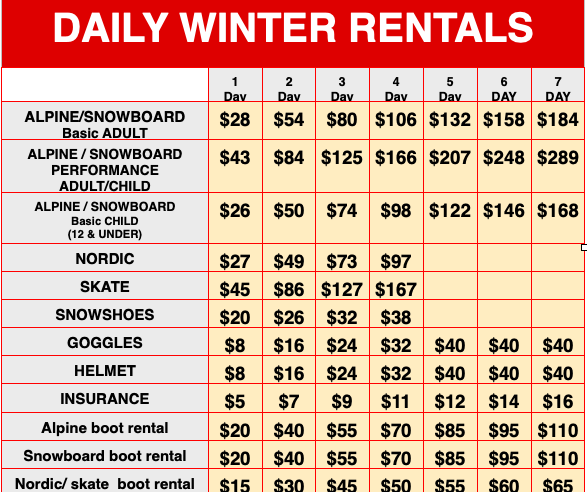 How do Season Rentals work?
You get to rent them and take them home. They are not due back until May 1st 2023.
You get Ski's or Snowboards with bindings, boots and poles
You have the option of purchasing insurance ($30). This a no questions asked. If it is busted in some way. You do not pay for it with the insurance. Does not cover Lost or Theft.
Can bring the equipment in anytime for tuning. Yes this is included in the awesome price.
The best part for parents is when your kids have that growth spurt in the middle of the season, come back and we'll give them a new size!

Season rentals preseason ends 11/30. Prices go up $50 after 12/1/2022 -

SEE BELOW FOR PRICES